Up at the Villa: Travels with my HusbandBOOKS
I love to travel — my bags can be packed in 15 minutes. And I especially love Italy.
I used to love to hear my family members speak loud, passionate Italian to one another. I knew I wanted to go where that language was spoken one day, and I've been lucky enough to have been to Italy many times now — but it's never enough.
What's been best for me has been traveling over the years with good friends. Also, with my husband. Ah . . . Tim. My constant traveling companion, and the catalyst for so many crazy and wonderful stories that need to be told.
If you've ever had a funny or frustrating or life-changing experience in another county or another country, then UP AT THE VILLA is for you. And whether you're planning a trip to the Sistine Chapel or to your comfy flowered sofa, this beautifully illustrated collection of true stories, practical tips and lessons from the road will be excellent company.
Buon viaggio!

Linda
$10.00 + $2.50 shipping (US)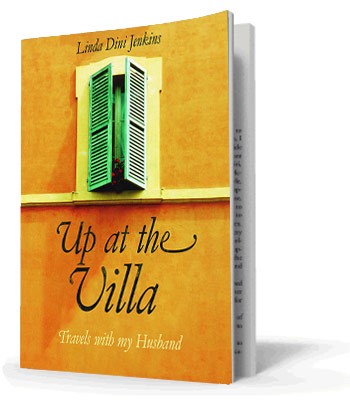 "
With the beauty of her prose and poetry, Jenkins provides a window on all of those small things that make Italy so alluring. At the same time she artfully captures the nuances of relationships and what makes them tick. A lovely book.
"
I was hooked at the first few lines of the prologue in Linda Dini Jenkins' Up at the Villa: Travels with my Husband. Recounting a wildly romantic tale of a young, '60s-era Southern California man and woman who meet by happenstance at lunchtime one day and set off on an extravagant life of love and travel, the book's introduction is enchanting. Being a sucker for a great love story, I was eager to see where this travel book was going to take me. But a reader would be mistaken to think this is just a travel book. In fact, it is part travelogue, part memoir, part recipe book, part poetry tome and part advice column. And it is, in part, a personal love story, as Jenkins is clearly compatibly connected to her travel cohort, husband Tim, who sounds like exactly the type of person everyone should travel with — adventurous, fun, impulsive, intrepid and unflappable (except when pressed to speak French, as the chapter titled Lost in Lille attests)…
"
Anyone who has traveled with a significant other knows the ups and downs of the journey. And … Linda Dini Jenkins recounts them with wit and warmth in Up at the Villa: Travels With My Husband. A love story as well as a travel memoir, Up at the Villa combines stories, essays, poetry and photography — as well as recipes and tips for travelers (through the world and through a relationship). So are we there yet? Maybe, maybe not, but the journey's the important thing, as Jenkins points out in every page of this book.
"
One of the Ten Travel Books I'd Give My Girlfriends!
Turn up the sound on your computers and have a look and a listen. It's only four minutes long. This is me, meeting myself in my bella Italia. This is the work of the wonderfully talented Richard Buckley.
Grazie per tutti, Buck!
Articles for Magazines, Newspapers & NewslettersTRAVEL WRITING
Dream of Italy Newsletter
In Abruzzo: Arrosticini on the Range
If you're a fan of spaghetti westerns, you might recognize the location of Ristoro Mucciante, a barbecue-deli-picnic spot on Campo Imperatore in the region of Abruzzo. This is the area Italians call "Little Tibet" because of its similar mountainous terrain, but also because of the geography of spirit that the area invokes. Read more...
---
Dream of Italy Newsletter
Verona: So Much More Than Juliet's Balcony
Did you see the recent movie, Letters to Juliet? It's not too bad for what is basically an improbable little chick flick. But I never would have gone to see it if it weren't for that magical word "Verona" in the title — and I confess that I'm a sucker for two hours of glorious Italian countryside. But I could have used a bigger dose of Verona itself. I love Verona, one of the premier art and architecture cities of the north. Read more...
---
Richmond Times-Dispatch
Matera: Ancient Italian City of Caves Resurfaces as Bustling Tourist Destination
One morning, my husband awoke before dawn and walked barefoot through the alleys and stairways of Matera. It's that kind of place: a little mystical, with a biblical feel that says time has stood still here. Nothing could be further from the truth. The last 50 years have seen enormous changes in this stone city set among the rugged landscape of Basilicata in Italy's
boot. An intricate troglodyte settlement of caves, churches and circuitous and climbing streets, Matera is one of the oldest inhabited cities in the world. Read more...
Travel Tips Newsletter
Every once in a while, Linda posts useful gems about mustn't-miss travel info. Group travel? Packing? Where to go? What happens when an emergency strikes?
SIGN UP HERE TO STAY INFORMED