I just returned from leading a glorious tour up north in Italy, to Vicenza, the city of Palladio, and Venice, La Serenissima. In addition to having a blast with a return group of travelers — plus two new friends — I had some nice inspiration time on trains and in my room. Here's the first story to emerge . . . LDJ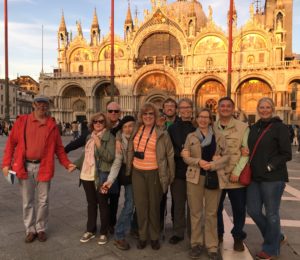 Gabriele, and his blonde spotted dog, 16 years old and nearly deaf and blind, walk slowly together in sestiere San Marco, looking curiously like brothers. Gabriele's sandy grey ponytail and the dog's floppy sandy ears move in time to the water in the canals being stirred by the pivoting gondolas in front of the Hard Rock Café. The staff at our hotel know Gabriele and his dog. They approve of our encounter when we tell them the story later.
The two go to work at the small art store every day. The dog takes up his post on a raised canvas bed behind the cash register. He is even too old to greet the customers any more. He just sleeps, shifting every now and again to catch a sea bird in his dreams.
Gabriele, meanwhile, gets the shop ready for the tourists – too many tourists, he says. They buy a postcard or two or a cheap print of the Rialto Bridge and leave. But they are not his market anyway. No, Gabriele is here for the artists of Venice. He sells what they most need: canvas, brushes, paints, mats, drawing pencils, and fine Venetian papers to line the covers of hand-made books. The tourists see none of this.
We speak to Gabriele and ask about an artist whose work we have just seen on the island of Torcello the previous day. His name is Leonardo D'Este. Gabriele's eyes widen as we say the name. Yes, he says, he is a friend. A most gifted artist.  A customer too, he says — he was just here yesterday buying supplies. He says "Leonardo" and puts out one hand, palm up. Then he says "Leonardo" again and puts out the other hand. It is a comparison. The two Leonardos. We all agree.
Young Leonardo (age 44) is a master portraitist. We tell Gabriele the story of how we met his mother, Aurora, on Burano, at the restaurant where he works as a waiter. He was not there, but another waiter called Aurora and told her that some people had come to speak to Leonardo. He was back in Venice, buying supplies, it seems. We told Gabriele about how she is so proud of her son that she took us to his studio to see his work, apologizing as we walked for the humbleness of what we were about to see and the fact that nearby construction was making a lot of dust.
He paints in the morning, when the light is good, and then works at the restaurant when he is finished. He does only commissions, it turns out, and only from life. Never from photographs. When we saw his work at the restaurant Villa 600 on Torcello, we thought we were looking at old masterworks. Rembrandt, perhaps, or possibly John Singer Sargent. But on careful study, it is clear that he has contemporized their style a bit, while maintaining the old light emerging miraculously from the dark background. The faces are fantastic. Genius.
Leonardo's small studio is strewn with books by both Rembrandt and Sargent. He is self-taught, and he studies them. His latest commission is enormous – an El Greco-sized full body portrait of a man with a background of glorious red and gold fabric. The portrait takes up most of the studio. Aurora shows us where the subject stands, where Leonardo stands, how he runs up to get close and copy the details, then runs back for a full view. We saw some completed works, one better than the next. He even had a small unfinished self-portrait which helped fill in some of the blanks about who Leonardo is. His is an interesting face: narrow, imperfect, not beautiful, but full of character. And maybe a little sadness, or maybe we are bringing that.
In any case, the studio is small, devoid of any kind of technology save electric lights. This drives his mother mad. No telefonino, she laments. Perhaps he is missing another commission and she cannot reach him. I will kill him; no, really, I will kill him, she says in her Venetian dialect which, astonishingly, we sort of understand. But that is not the case.
We leave our information with Aurora and tell her we'd like to contact Leonard for a self-portrait. This shocks her, and we have to say it several times. We want a portrait of her son, the son we have never met? Yes. He is a master and we want his self-portrait while it is still affordable. I think she is not sure of us, but agrees to tell him when he returns.
Next day we meet Gabriele and his dog. It seems that while we were talking to Aurora, Leonardo was here with Gabriele, buying more paint. Incredible. The dog shifts gently in his bed. Perhaps there is a little smile.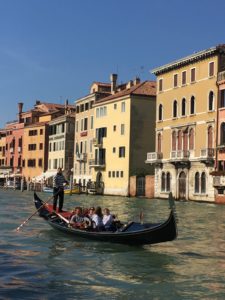 Buon viaggio!